Fernando Cejas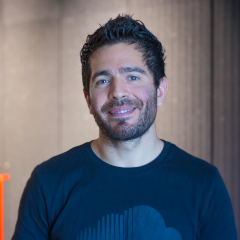 IT Professional
Fernando Cejas is an IT professional focused on Scalability, Mobile platforms, Frontend and Leadership.

He has worked for several companies in a wide variety of projects in Kotlin, Java, Scala, Rust, Ruby, C-Sharp, PHP and in different contexts: social networks, messaging and music platforms, NFC/RFID hardware solutions and E-commerce.

Active in open source and software development communities for more than 15 years, as a part of his present, he grows, leads and helps teams to be more productive and effective. He also advocates software engineers by exploring new technologies, speaking at conferences and sharing knowledge.
Location

Berlin

,

Germany

Website
Twitter

LinkedIn
Experience
– present
Director of Mobile

at Wire
Wire offers one of the most comprehensive collaboration suite featuring messenger, voice, video, conference calls, file-sharing, and external collaboration – all protected by the most secure end-to-end-encryption.
Highlights
Leading and growing both iOS and Android Teams in terms of success and career development.
Defining product and technical tactics and strategies for the short/mid/long term.
Responsible for cross-team collaboration and mentoring by making use of software engineering good practices and patterns.
Work with Product for risk management, feature prioritization, road-mapping and resource management.
Taking an important role in creating developer relationships and fomenting knowledge sharing and open source contributions.
–
Lead Developer Advocate

at IBM
International Business Machines (IBM), is a global technology company that provides hardware, software, cloud-based services and cognitive computing.
Highlights
Led and grew a team 6 of developer advocates ensuring it success and goals.
Mentoring, hiring and career development by conducting 1:1 meetings and follow ups.
Participated in several conferences advocating and giving inspiration, educational and entertaining speeches about AI, Mobile Development and Software Engineering in general.
Contributed to open source communities by writing code examples and participating in open source projects.
Wrote blog posts, tutorials and content about Artificial Intelligent, Open Source and Engineering.
Created and gave workshops in technology events mainly across Europe.
SoundCloud is the world's largest open audio platform, powered by a connected community of creators, listeners and curators on the pulse of what's new, now and next in culture. It has over 190 million tracks from 20 million creators heard in 190 countries.
Highlights
Main Roles: Tech Lead and Engineering Management.
Lead team success and goals. Took an important role on the hiring process and team organization.
Wrote frameworks and libraries which acted as a base for other developers in order to build up user facing features.
Maintained cross-cutting concerns within mobile clients.
Participated in architectural aspects and modularization of mobile clients: Android and iOS.
Took and important part on the Continuous Integration and Delivery Pipeline.
Tuenti is a mobile virtual network operator (MVNO), owned by Telefónica. It is a Spain-based tech company, that focuses on providing a cloud experience through its own application and its website to their customers. Originally, Tuenti was created in 2006 as a social networking (referred as the "Spanish Facebook") with over 15 million registered users.
Highlights
Actively involved in Android development of the social network mobile client.
Collaborated with the mobile QA and testing strategy, company wise.
Managed a team of 5 developers.
–
Mobile Software Engineer

at Flomio
Highlights
Led and developed a project based on NFC called 'NFC Actions' which was a free android application that would let users program their NFC Tags to perform certain actions when reading them through an Android NFC Enabled device.
–
Chief Technology Officer - CTO

at

Niula Digital
Highlights
Responsible for establishing the company's technical vision and leading all aspects of the company's technology development.
Actively involved in Android and Backend development of a restaurant platform for making reservations.
–
Chief Technology Officer - CTO

at

Fastdove
Highlights
Responsible for establishing the company's technical vision and leading all aspects of the company's technology development.
–
Software Architect

at

Aifos Solutions
Highlights
Contributed to the architecture and design of systems based on RFID technology, specially on the health area.
–
Software Consultant

at

Tiger Customized Systems
Highlights
Conducted, managed and developed several projects in different areas: financial, health and insurance.
–
DBA - Developer

at

Juleriaque
Highlights
Managed and developed the storage/db infrastructure based on Data Replication using Microsoft technologies.
Developed the current administration system and migrated old system to new technologies.
–
Technical Support

at

Perez Solares Medical Center
Highlights
Maintained the network infrastructure.
Conducted installation and maintenance of the system used in the medical center.
Education
–
Degree

in

Computer Systems

from

Pontifical Catholic University of Argentina

with GPA of

9.0
–
Degree

in

System Analysis

from

Pontifical Catholic University of Argentina

with GPA of

8.5
–
Bachelor

in

Technical Development

from

Pontifical Catholic University of Argentina

with GPA of

9.0
Languages
English

Spanish

German

Fluency:

Professional working proficiency
Skills
Engineering Leadership

Keywords:

Strategy
Planning
Organization
Risk Management
Growth
Productivity
Effectivenes

Software Engineering

Programming Languages
Interests
Sports

Keywords:

Science

Keywords:

Quantum Physics
Math
Technology
Psychology

Reading

Keywords:

Science Fiction
Technical Material
Human Behavior